What We Do
Definition of Visual Impairment
Visual (Vision) Impairment is a reduction in vision – usually associated with age – that cannot be corrected by prescription glasses, contact lenses, medicine or even surgery. It can range from low to severe. In effect, a person diagnosed with visual impairment has difficulty fulfilling his/her regular daily functions. Visual Impairment typically calls for a change in lifestyle and a solid support system.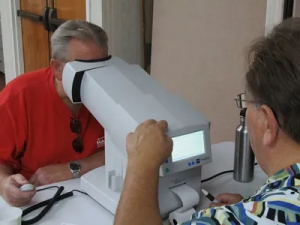 The World Health Organization (WHO) has issued the following classifications of visual impairment:
Mild Vision Loss or Near-Normal Vision – 20/30 to 20/60
Moderate Visual Impairment – 20/70 to 20/160
Severe Visual Impairment – 20/200 to 20/400
Profound Visual Impairment – 20/500 to 20/1000
Near-Total Visual Impairment – less than 20/100
Total Visual Impairment – no light perception at all
Sources: Medical Dictionary & National Institute of Medicine
Vision Screenings for Seniors
We offer free vision screenings to people 55 and older throughout our service area primarily at senior housing facilities.
In-Home Services
Free throughout Contra Costa County and adjacent areas. Services include: Needs Assessments, Counseling, Training in Daily Living Skills for the Blind and those with Low Vision, Help with Adaptive Aids, Orientation and Mobility.
Support Groups & Activities
Need a safe place to share personal fears and frustrations about your vision loss, and pick-up some practical tips and support from others who have faced the same challenges? Try one of our support groups. We also have opportunities to socialize and engage in activities with your peers as you learn how to live a full and independent life despite vision loss.
Vision Impairment - What it's Like
Contact Us
Lions Center for the Visually Impaired
175 Alvarado Avenue, Pittsburg, CA 94565